TOP
Blog

Back
Hiking in Banff National Park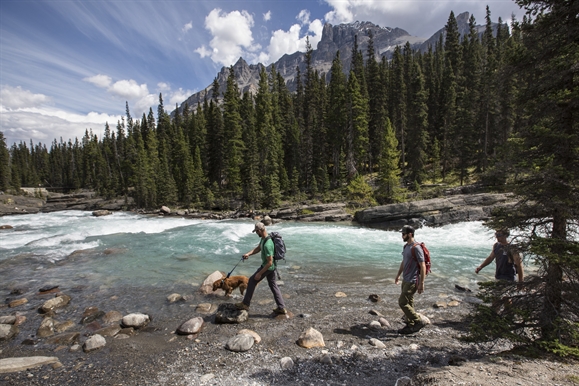 Here's the secret that locals have come to discover; hiking regardless of the trail, regardless of the season is one of the most incredible things you can do when you're in Banff. With over 1,600km (994miles) of trails, hiking in Banff offers something for everyone. So whether you are a seasoned pro at hiking or prefer strolls, the Canadian Rockies will deliver incredible adventures. We want to share some of our favorite hiking tips in Banff National Park.
BEFORE SETTING OUT ON A BANFF HIKE
Hiking, like any activity, requires preparation, and there is no better place to start than the Parks Canada website. They provide essential information about hiking in Banff, from being wildlife prepared to trail conditions and even allow you to pre-purchase your Parks Pass, allowing you to skip the park gates.
WHAT TO WEAR ON A HIKE IN THE ROCKIES
1. Jacket (rain, windbreaker, down etc.) – it's essential to have a lightweight jacket that can pack small. While summer weather in the mountains is quite warm, the higher you climb, the cooler it gets. Mountain weather is also unpredictable, blue skies one minute and rainy the next.
2. Hiking Pants/ Leggings – they protect you from the elements (like fallen rocks, branches and mosquitos) and are designed to move with the body.
3. Sunglasses – It might seem silly, but you have to protect your eyes!
4. Hiking Shoes – either hiking boots or trail runners, proper footwear is a MUST.
5. Hiking Poles – for hikes with significant elevation gains, hiking poles can save those knees.
6. Lightweight Backpack – Something that can hold all the essentials but is easy on your back
7. Sunscreen & Bug Spray – no brainer.
STAY BEAR SAFE
The Canadian Rockies are prime bear country, and while you are unlikely to run into them on well-travelled trails having some basic knowledge on what to do if you encounter one during your travels can be helpful. Once again, Parks Canada will have the most up-to-date information. But here are some additional tips we can offer:
1. Have bear spray with you, and understand how to use it (although not mandatory when hiking in Banff, it is strongly recommended)
2. If you can, hike trails with a buddy and make noise while hiking (talking loudly, singing, listening to music etc.)
3. Don't throw food out along the trails – what you came in with, you leave with
4. If you do see a bear, report it to Parks Canada.
BANFF NATIONAL PARK HIKES
JOHNSTON CANYON & THE INKPOTS – EASY
A heavily-trafficked trail in Banff National Park, Johnston Canyon & The Inkpots, has it all. As you travel parallel to a fast-moving river, you are encompassed by forests, waterfalls, bridges and more! The trail showcases the lower and upper falls before hikers decide whether to turn back for the day or continue to the Inkpots. Either option allows travellers a relaxed pace and a chance to see nature at its finest.
Distance: 12km roundtrip (to Inkpots)
Elevation Gain: 215m
Time Required: 3-4hrs
SUNSHINE MEADOWS – EASY
A paradise for skiers in the winter and a paradise for hikers in the summer – simply, hiking in Banff is not complete without a visit to Sunshine Meadows. This expansive and one of the most photographed landscapes in Canada offers hikers everything, wildflowers (early July), blue lakes, mountain ranges in every direction and even a place to grab a snack and beer. The trail starts at the base of Sunshine Ski hill, and if you want the challenge, you can hike up to the trailhead or take the 25min gondola ride and hike from there
Distance: 7.6km (starting at the trailhead and not base)
Elevation Gain: 175m
Time Required: 2-3hrs
MORAINE LAKESHORE & ROCKPILE - EASY
They are known as one of the most, if not the most, iconic backdrops in Canada. Moraine Lakeshore and Rockpile is an easy way to appreciate the grandeur of the Canadian Rockies. The famous blue lake with the Valley of the Ten Peaks behind provides a trail running along the lake and a literal rock pile to gain some elevation to soak in all the views.
Distance: 3km roundtrip
Elevation Gain: 30m
Time Required: 1hrs
LAKE AGNES & BIG BEEHIVE - MODERATE
This popular hike starts at the base of our sister property Chateau Lake Louise and climbs through forest with intermittent views of Lake Louise. A short hike later, you arrive at Lake Agnes, home to the famed Lake Agnes Tea House and cradled by mountains like Mount Piran. Once you've stopped for a tea break and snapped a few photos of the scenic lake, find the trail that leads around the lake to start your ascent to Big Beehive. This high ridge provides the most epic views of Lake Louise.
Distance: 7km (to Lake Agnes, roundtrip), 12km (to Big Beehive, roundtrip)
Elevation Gain: 435m (to Lake Agnes), 776m (Big Beehive)
Time Required: 4-6hrs
TUNNEL MOUNTAIN - MODERATE
Truly a local hike – Tunnel Mountain is located in the heart of the Town of Banff. This relaxed hike offers excellent views of Banff's town, the mountains surrounding it, and the Bow River as it snakes its way alongside the Fairmont Banff Springs Golf Course.
Distance: 4.3km
Elevation Gain: 266m
Time Required: 1.5hrs
SENTINEL PASS/LARCH VALLEY - DIFFICULT
When you think of hiking in Banff National Park, what you are probably envisioning is Sentinel Pass. This quintessential Canadian hike is pretty challenging, but it's all worth it for the reward because it offers some if not the most scenic views in the Canadian Rockies. Although pretty popular in summer, early fall during Larch season, this trail comes to life as the valleys turn to a golden colour and the first snowfalls hit the peaks.
Distance: 10.9km
Elevation Gain: 792m
Time Required: 6-8hrs

Back
Recent Post
Blink, and you'll miss it! Autumn in the Canadian Rockies is short but sweet.
The season of sunshine and warmth is here in Banff National Park. One of the best ways to experience Banff National Park this summer will be to plan ahead.
Next Post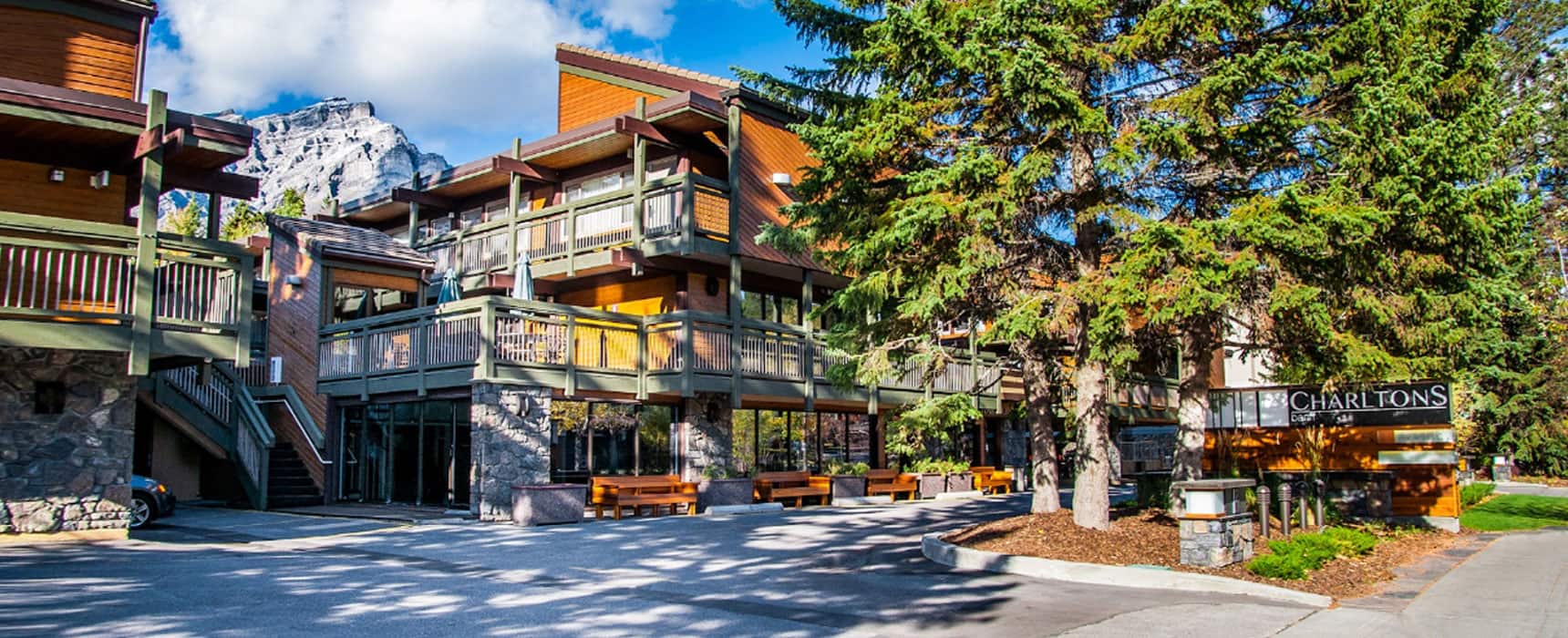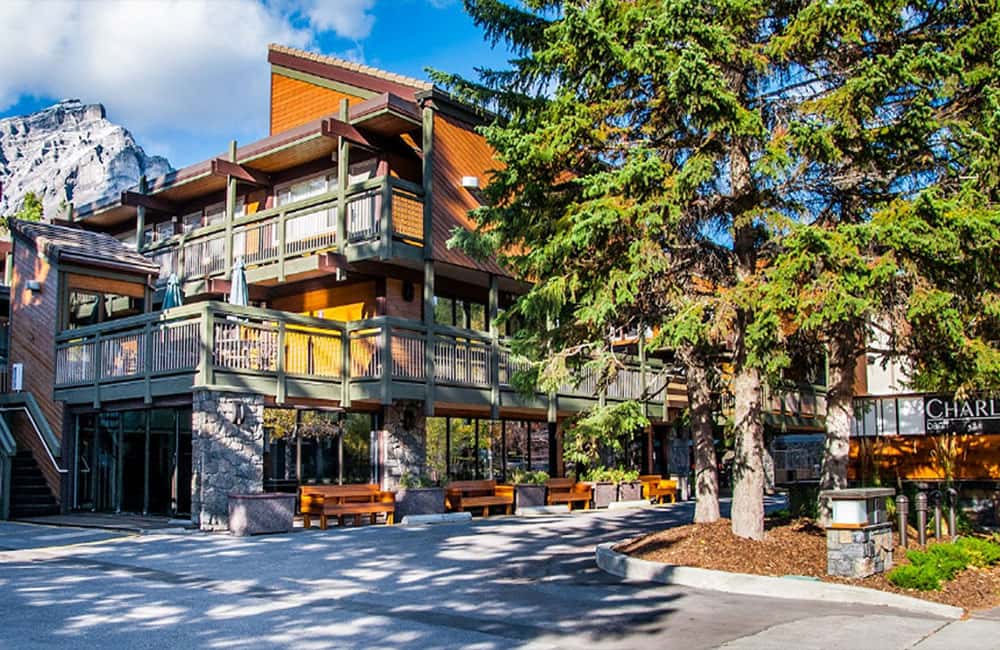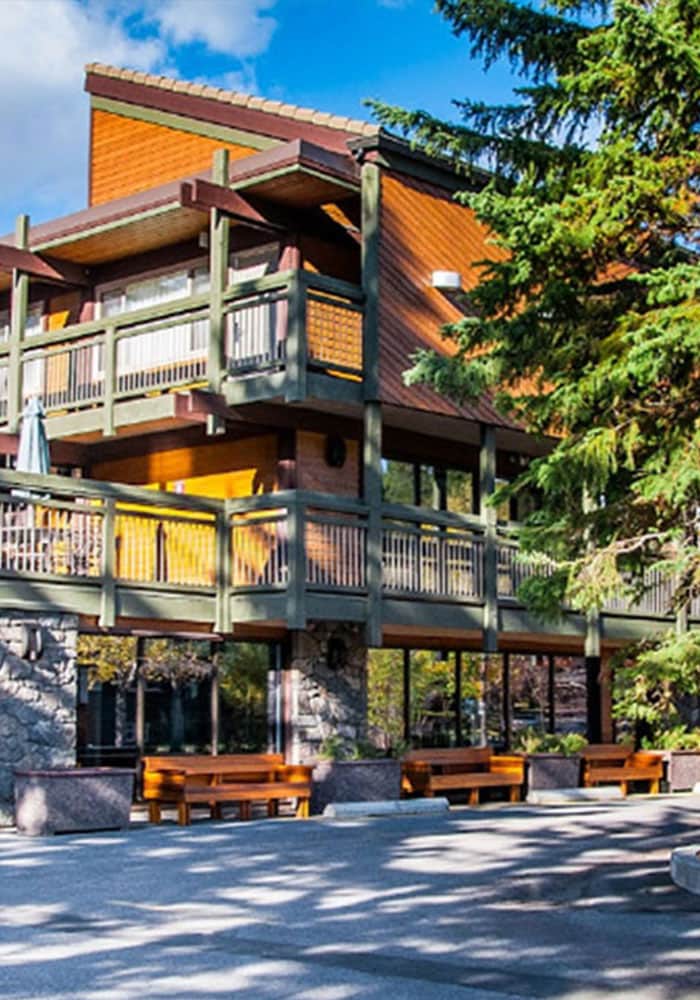 "This was our first visit to Banff and the Charlton's Banff Hotel exceeded our expectations. The room was clean and comfortable and the location of the hotel was excellent. The front desk personnel were very friendly and accommodating. We would definitely recommend this hotel and would stay there again the next time we visit the area. "
-Cathy B,
"Don't hesitate to stay here, we had a loft room and it was great. Very comfortable bed, good shower pressure, well kept and clean room. We were able to also book ourselves into the pool for the 30 min time-slot, and we also enjoyed that. Very friendly front desk staff. Overall we were very pleased and definitely recommend this hotel! "
-Sharon S,
"Exactly what the title states. We were only there for one night, but we really enjoyed the loft unit we had. We also took advantage of the complimentary breakfast as we were heading out of town early. There was a lot of snow overnight and we woke up early to see probably 6 people working to clear the lot. Our room had a TV both up and down with a fireplace by the main entrance door."
-Suzuki DR,